Past Performances
2009
La Conja & Gargi Shinde on Sitar
with Adam Klipple on Piano & Amol Khanapurkar on Tabla
March26, 2009, Thursday, 4pm-5pm
Richard Harris Terrace
Borough of Manhattan COmmunity College

Savion Glover's-Solo in Time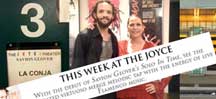 At the Joyce Theater
Opening March 3,- 22, 2009
A collaboration between
Savion Glover & La Conja!



Que Viva Mingus!
Mingus Big Band
Hear La Conja sing on
Ysabels Tabale Dance
Also hear La Conja on
Un Segundo Una Vida
by Romero
333 Entertainment



Click on picture to see more photos.
Lorca in a Green Dress
Written by Pulitzer Prize Winner
Nilo Cruz
Past Performances
2003-2008
La Conja performed with
Alex Conde at Panama Jazz Festival
Jan 14, 8pm
Tales of the Black Legend
Viñetas de la Leyenda Negra
The Ultimate Culture of Fear! - The Spanish Inquisition
Directed by Artistic Director Susana di Palma-Zorongo Flamenco
Music by Pedro Cortés - Guest Artist La Conja
Southern Theater- May 1 and May 5 - 8
Columbia Stages presents
November 9 to November 21, 2004
Federico Garcia Lorca's
The House of Bernarda Alba
MUSEUM OF FINE ARTS BOSTON, MA.
Friday Nov. 5, 2004
La Conja performing with Juanito Pascual Flamenco Guitarist
Nov. 6, 2004 Portland Maine
July 5th- tv
See La Conja on "Live Regis & Kelly" on ABC
July 5th-Monday-9am
Flamenco Workshops and Performance:
with La Conja, Pedro Cortez, Jesus Montoya
July 30th AT the Bataan Hall Taos, N.M.
3 Exploraciones=special guest: La Conja flamenco singer
An evening of Spanish music & dance from the Renaissance to today
with: Paul Jared Newman guitar & vihuela
Deirdre Towers dance & percussion Ashley Bathgate cello

The Leonard Nimoy Thalia at Peter Norton Symphony Space

June 7th & 8th
Rochester International Jazz Festival
Marc Maaralta Flamenco Reunion
www.rochesterjazz.com
June 17th-8 pm
JVC Jazz Festival
2004 JVC Jazz Festival New York,
June 15 -26 Maria Scheider Orchestra

Manule de Falla
June 23rd-Kaye Playhouse - Hunter College
Thalia Theatre-New York

La Conja is dancing with
Maria Schneider Orchestra

Thursday Feb 5th 2004
JBC Jazz Festival

The Half Note
Athens Greece
La Conja is dancing with Herman Romero
May 12, 2004
HotHouse
31 E Balbo (bet State & Wabash)
Chicago Il 60604

Sat May 15
Unity Church-Unitarian
732 Holly Avenue, Saint Paul, MN 55104

Tuscon Arizona
Dec 5th- 8pm 2003 Duzi's Little Theatre

Ashland, Oregon - Home of the Shakespeare Festival
World Premier-Lorca in a Green Dress
Written by Pulitzer Prize Winner Nilo Cruz
July 12-Nov 3, 2003
5-