Return to Reviews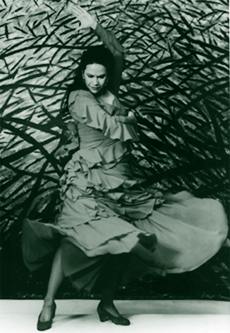 The New York Times THE ARTS Saturday, January 7, 1995
In Performance Flamenco Is Flamenco When Passion Infuses It La Conja Mimbre y Vareta Pace Downtown Theater Flamenco has withstood time like some great volcanic rock, weathered by winds that never quite manage to penetrate to its boiling essence. The program presented by La Conja Mimbre y Vareta on Thursday night was a perfect example of the effect of changing styles on the art form. It might be described as slightly cool fusion-style flamenco music and dance. But the best moments occurred when the performers connected with their material with the kind of greedy passion that is at the heart of traditional flamenco.
La Conja is a sophisticated producer, though the staging was awkward here. The "Martinete" section of her "Llanto de la Fragua," a brief dance for four eerily well-mannered young ladines, suggested her imaginative gifts as a choreographer. But La Conja is also a dance of intense, beautifully modulated heat, most evidident in "El Dron del Faraon." Her gift for subtle, equally modulated experimentation was clearest in "En la Soledad," a solo danced to music by Pedro Cortes, the company═s music director. To watch La Conja move about the stage in flowing, rhythmic traveling steps was comparable to hearing a single word drawn out luxuriously. She was a hard act to follow and her elegant supporting dancers, Fernando Villalobos and Clarita Filgueiras, were less persuasive.
The seven-member musical ensemble included an electric bass player, a percussionist, a violinist and a flutist, addition to the expected guitarists and singer. The bass was a little hard to get used to in the more traditional flamenco scores. But a highlight of the evening was "Tio Negro," a wild jazz flight of fancy with fine violin riffs form Natalia (La Rusa) Konstantinou. Manolo Segura was the earthy, impressive singer. The musicians also included Res Benincasa, Roberto Castellon Jr., Thomas Chapin and Sean Kupisz.