Return to Reviews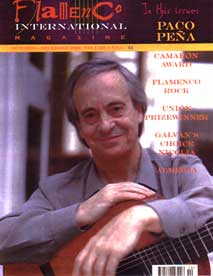 Oct-Dec 2000 Volume 3 No. 4
La Conja nad Company-New York City
I'd go a long way to hear Pedro Cortes play his guitar. And I did-155 km from Philadelphia to New York City on November 3, to attend the first of two performances at La National Centro Espanol by the five-member troupe featuring Cortes, singer Joaquin Escudero, percussionist.keyboard player Gonzalo Grau and dancers La Conja and La Leah. Fortunately for me, the work of Cortes and La Conja was worth the trip.
Cortes has a rare, and enviable, ability to toss off startlingly fast, inventive, and dramatic falsetas, with no apparent effort. The program showcased his abilities as a guitarist, arrange, and composer-most notably, o of the lovely instrumental piece called Celestina. He also has a n appealing theatrical persona-remarkably unaffected, despite the long hair and black leather pants-and is sufficiently self-confident to let the audience see how much he enjoyed working with the other artists in the company. And this was quite a company. Escudero's voice was rich and satisfying: and Grau seemed equally comfortable, whether doubling Cortes's melodic lines or improvising occasional jazz licks. La Leah-an attractive, long-limbed young woman-displayed a pleasantly lyrical though often tentative style.
But the star of the show was La Conja. This small, compact, intense woman has an extraordinary command of compas-in three different aspects of flamenco. She sang, with great assurance and emotion-in both Spanish and Arabic: took over, seamlessly, on cajon while the percussionist performed his bulerias bit during the evening's finale:and danced three distinctive and equally affecting solos, presenting each one with tremendous grace, wit, and power.
Particularly impressive was La Conja's solea por bulerias, performed in black trousers and a sexy sheer blouse. This item demonstrated her excellent footwork, dramatic arms, and inventive choreographic sense. She also has great taste in flamenco dresses.
Nancy G. Heller